Home Playoff Football Game Tonight vs. Independence! Game Time: 7 PM Admission: $8.00. (please have exact change) #solonstrong

Spartan Nation: We will be having a Cross Country send off Friday Morning. Bus will be leaving the HS at 9:15 Pack Racine and Main Street as they head out of town for a GREAT sendoff! Both teams have had a great year come wish them luck! #solonstrong

The Solon CSD Board will meet Monday, October 26, 7:30AM to discuss the baseball/SRNA facility. The meeting will be in the Central Office 3rd floor board room.

The USDA has announced that school meals will be FREE to all students 18 and under for the remainder of the school year. Please watch this brief YouTube video to learn more about how this opportunity for our students also benefits the school district.​
https://www.youtube.com/watch?v=K7f_nvzKN2I&feature=emb_title

October 2, 2020 Solon Community, The Iowa Department of Public Health issued new guidance related to when to quarantine and what type of face covering offers the greatest protection. The guidance is summarized below: • Quarantines will not be required when a masked individual tests positive and all close contacts were wearing masks. Close contacts will need to self-monitor. • Masks offer the greatest protection from COVID spread. Gaiters and shields do not offer the same level of protection as masks. The administrative team and nurses met this morning to review our current mitigation practices and the new guidance from the IDPH. We concluded that all current mitigation practices will continue to be implemented and our face covering expectation will encourage the use of masks to offer students and staff the greatest level of protection. The IDPH recognizes the use of masks as protection when social distancing is compromised so the use of masks is an important mitigation practice in keeping all students onsite everyday. If your child currently uses a shield or gaiter and you have questions, please contact your child's school principal. The success of our return to onsite learning for all students everyday has been a model across Iowa. We will continue to assess and review our data and all new guidance from public health and Department of Education in keeping all students and staff safely onsite. District Administration Davis Eidahl, Superintendent Josh Lyons, Director of Teaching and Learning Zach Wigle, High School Principal Mike Herdliska, Middle School Principal Jessica Tabor, Lakeview and Intermediate Principal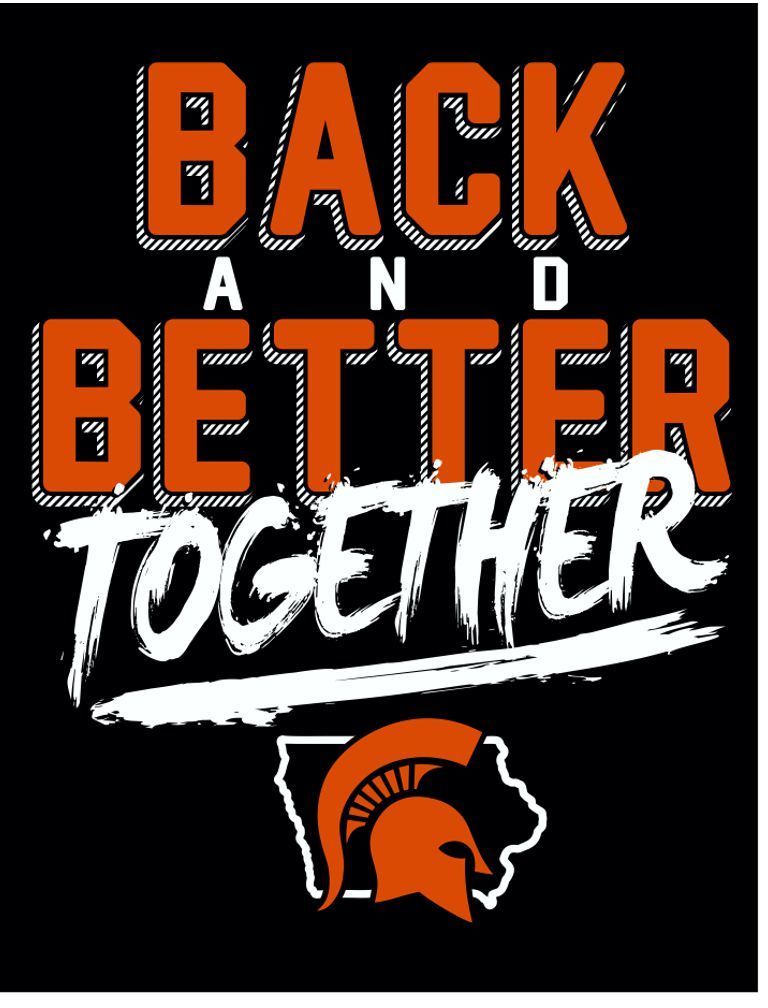 No goal is too high if we climb with care and confidence - Truett Cathy. @Soloncsd Back and Better Together! Thank you principals, teachers, staff, students and parents for making our Return To Learn (100% onsite, everyday) a big success to start the year.

Solon CSD Board meeting, September 17, 5:30PM, Central Office Board Room. School Counselors will provide the Board a Return To Learn update on mental health initiatives.

Homecoming week starts next Monday, 9.21.2020. Please join us in dressing up all week! There will be no parade on Wednesday, 9.23 but we will have our King coronation that evening at the stadium. #solonstrong

Please see the attached documents regarding events that have taken place over the last few days. Thank you!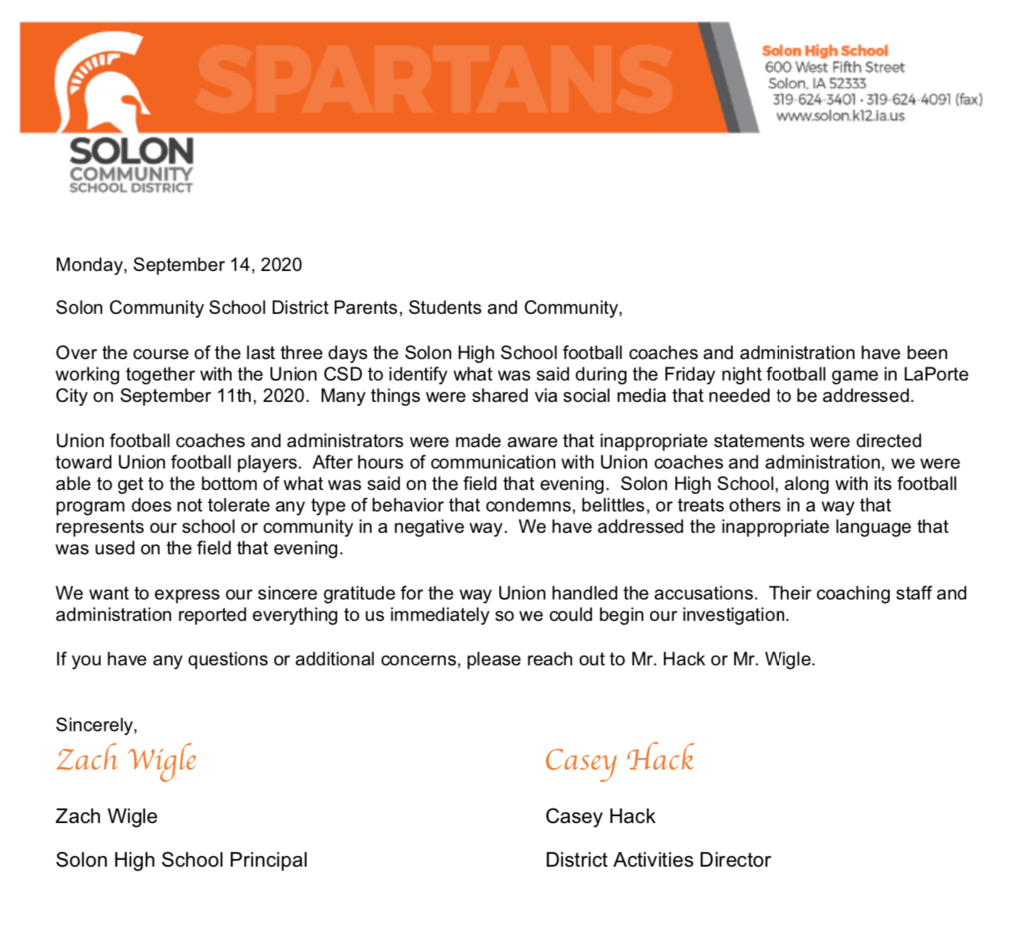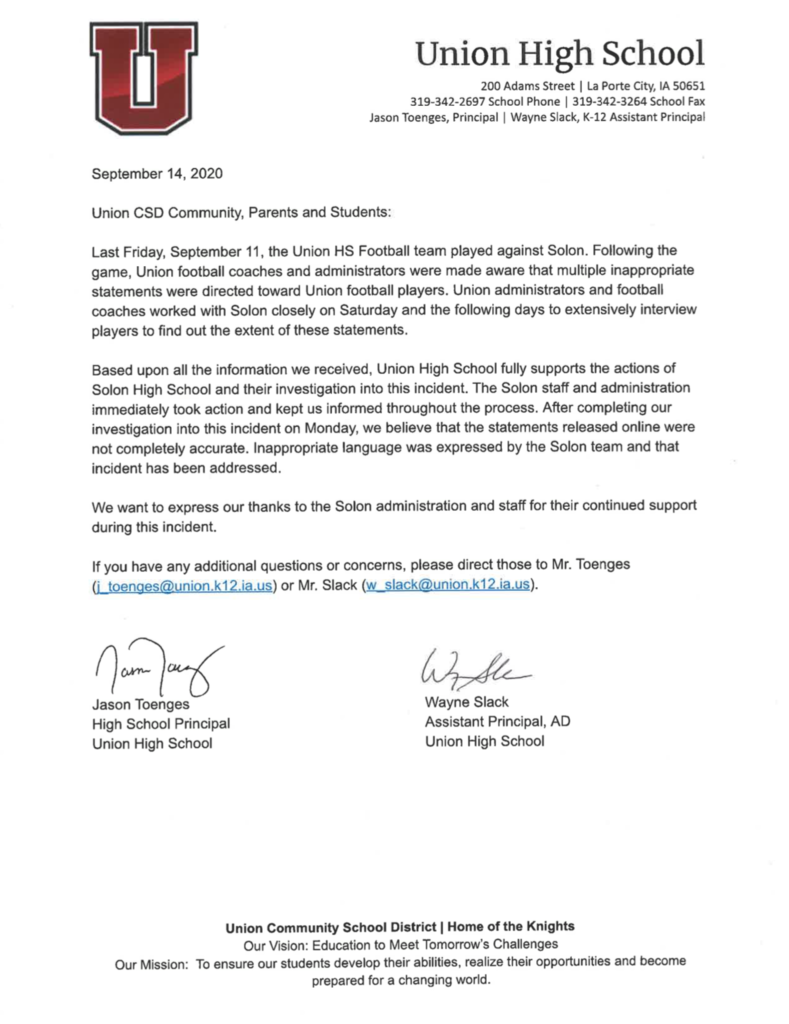 September 8, 2020 District indoor facilities will not be available this fall to non-sanctioned school teams and activities. This includes all gym use for youth teams. We are keeping the schools closed to limit student interaction and activity outside the school day and provide our custodians the necessary time to clean and sanitize. Gym usage will be reevaluated in December. We realize the inconvenience for many of our youth teams, but we are implementing every possible measure to keep students in school without disruption caused by exposure to COVID.

Picture day is tomorrow! Smile big on 9.10.2020


The District developed a COVID Data Dashboard that will be available on our website beginning 9/9. The data will display student and staff positive tests, quarantines and absenteeism.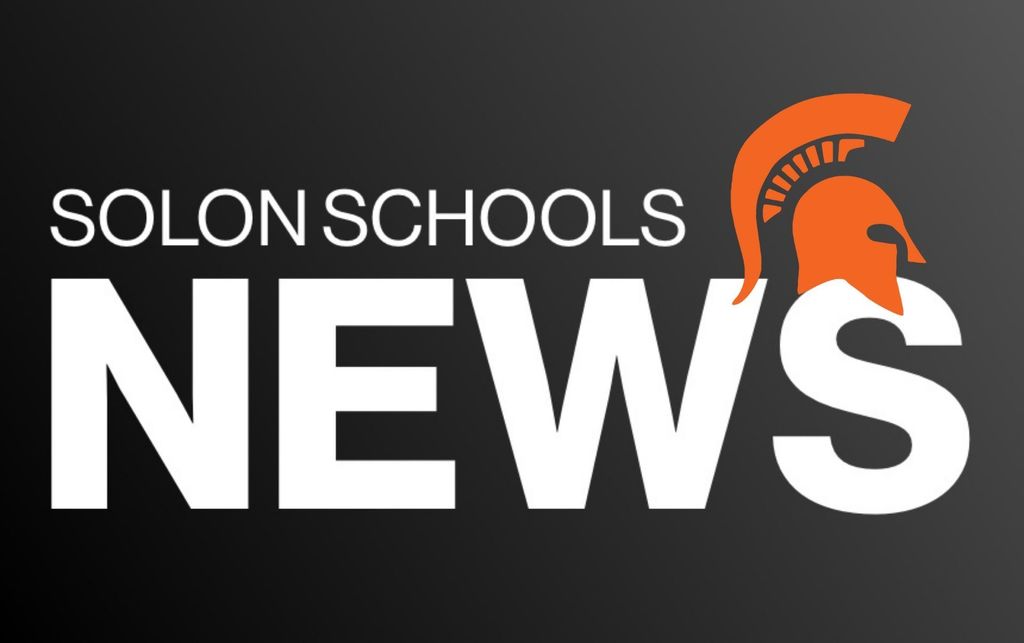 Great start to the school year! Thank you Solon parents for your cooperation, patience and support. Students are doing a great job adapting to all the new safety procedures. We are excited and grateful to have our students back in school. BACK and BETTER TOGETHER!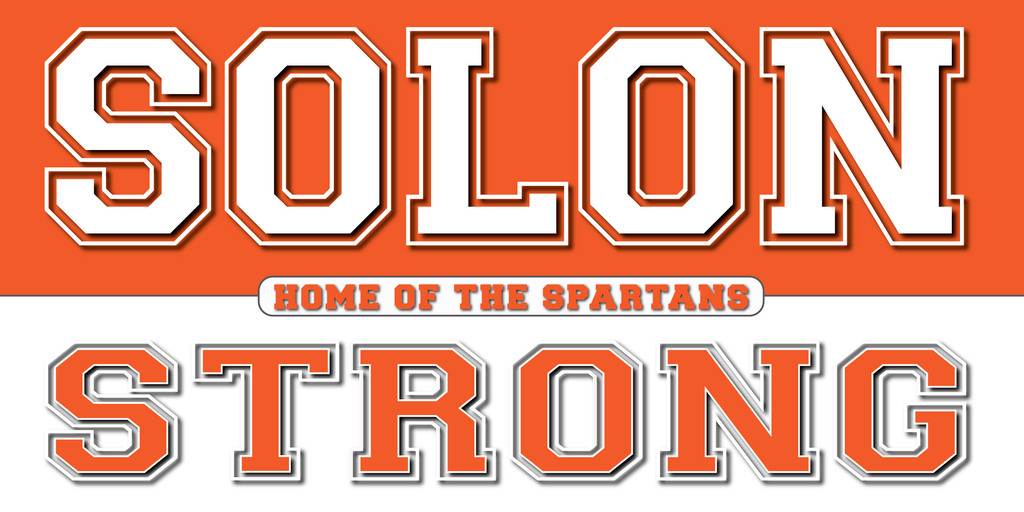 District Administration and School Board riding all busses today to assist drivers and students on our 1st day back! #solonstrong