Explicit Instruction & Jotting
Jessica Tabor
Friday, March 13, 2020
Within the Lucy Units of Study, students are given the opportunity to dig deeper with the text they read. They are taught how strong readers interact with text through questioning, connection, inferring, and predicting. The strategy of jotting allows students to engage with the text by asking questions, noting key points/events, or making connections to characters and storyline moments. Jotting is a way for strong readers to build their understanding of what they are reading, as well as helping them to become intentional in their purpose for reading. We are active readers and jotting is a great way to accomplish this goal!
Explicit instruction is also key in helping our students understand and practice the strategy of jotting while reading. Students are provided with clear direction, purpose, and modeling of what their jotting can and will look like while they independently read (or while they read within their book clubs or reading groups with their teacher). Our teachers do an amazing job of providing this explicit instruction through modeling and providing examples of what jotting might look like along a development progression, like the one shown in the anchor chart from the 5th grade classrooms (pictured below).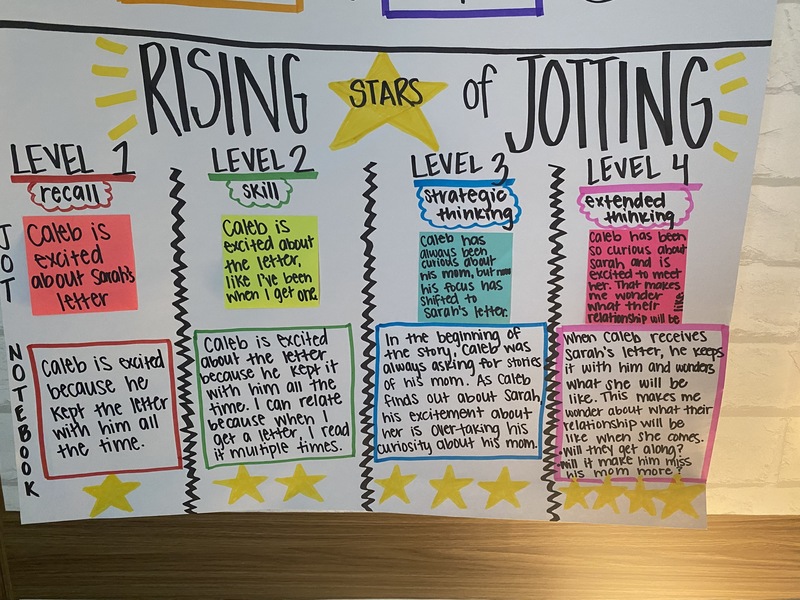 Students can use this model to compare their own jotting and self-assess their progress throughout each unit. The anchor chart provides explicit examples of where the students might be and what the end goal looks like. This type of explicit instruction and support gives students a higher probability of success and increases the practice of self-assessment.
We are so proud of the progress our SIS students have been making this year!
The future is certainly bright!